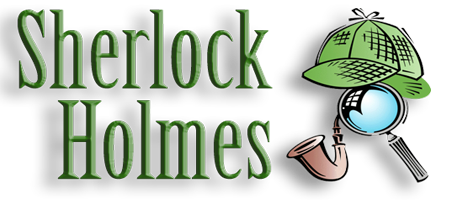 AUDITIONS CANCELLED FOR 1/17.
RESCHEDULED TO FRIDAY, 1/19 FROM 1-3PM @ HARRISBURG YMCA.
Spring 2018 Performance:  Sherlock Holmes
Here's a highly entertaining adaptation of Sir Arthur Conan Doyle's famed detective story, combining mystery, romance, action, danger and laughter.  Alice Faulkner has letters written by a dead girl that will cause grave international problems.  Moriarty wants those letters; so does Holmes.  The game's afoot!  But not before the Professor's gang has London in its grip.  Only young Holmes understands the true objective the professor has in mind (too sinister to reveal here), and he's willing to put his own life on the line to stop it.
If you are interested in auditioning for Sherlock Holmes, read Director Samantha's Letter to Parents & Performers here:
Important Registration Information:
All interested participants are required to attend auditions on Wednesday, January 19, 2018 starting at 1:00pm hosted at the Harrisburg YMCA.
There is no registration deposit required for your child to audition.  The participation fee is due in full on Wednesday, January 24th, the date date of the group read-through, in order to give participants the chance to view and accept their role. We do ask that you still submit the registration form prior to auditions so that the director can plan for the number and ages of the children that will be at auditions.
How to Register for Auditions:
Who:
Sherlock Holmes is geared towards older actors/actresses, middle school age and up.  However, all interested students who are independent readers ages 6+ can audition.  Please note that there will be audition cuts — not every child will receive a role in the performance.

All participants are expected to cold-read from the script independently during auditions.  Children who are not able to read their script independently will be encouraged to delay participation for a future season.
Cost:  
$160/child for the performance season(due in full by January 24th).  Sibling Discount applies where applicable.  Payment can be made through paypal, cash, or check.
DISCOUNTED OPTION!!  $80/child for the performance season (due in full by January 24th).  Sibling Discount applies where applicable. This option enables parents to fundraise the additional $80/child through the sale of playbill ad space, shout outs, and sponsorships.   If mid-season, you choose not to sell ad space or do not meet your ad sales minimum, you can pay the remaining balance at that time.  Payment can be made through paypal, cash, or check.
The enrollment fee includes:
1, 2-hour group reading of the script
Between 11-21, 2-hour rehearsals (calls for rehearsal dates depends on the role)
2 evening performances
Costumes and other necessaries are paid for separately by the parent, however costumes are inexpensive and most are created by the parent costume design team.
Rehearsal Location:
Cannon Memorial YMCA located @ 4110 Main Street, Suite 200 Harrisburg, NC 28075
Auditions:
Audition Expectations:
All students are asked to prepare and present a one-minute (no longer) monologue to be performed from memory.  The monologue does not need to be read with a British accent.
Students will be asked to do cold readings from the script alongside other actors.  Exceptions will not be made for children to audition 1:1 with the director.
Students will be given a few lines and asked to read them in their best British accent. (Please note: British accents are not a necessity for the show, but will be used by characters at the discretion of the director. The director would simply like to be aware of which students are comfortable using them and which are not.)
All students will read in front of one another. Students are asked to be respectful of one another and demonstrate their ability to focus by staying calm and quiet when it is not their turn to read. Parents who choose to stay in the audition room with their students are asked to wait quietly with their students until auditions are finished.
CUTS:  This performance has a limited cast and is geared towards an older cast of performers.  Please understand that the director will cut some of the children who audition.  Any children that are not able to read the script independently during rehearsal will not be considered for a role.
Absences & Date Conflicts:
All interested participants are required to bring a list of date conflicts and planned absences with them to auditions.  This should include any dat a student will need to miss, be late to, or leave early from, rehearsal.
Behavior:
Expectations will be high for behavior and work in rehearsals, as well as practice at home. Please be aware that casting will reflect this, meaning cuts will be inevitable this season. We are looking for actors who are serious and excited about performing, who are willing to put in the hard work it requires to bring a production together, and who can be responsible and demonstrate a strong work-ethic in rehearsals.
Per the director's discretion, participants who have demonstrated repeatedly difficult or unruly behavior in the prior theatre season will not be considered for a main role in the upcoming season.  This helps ensure that the children are accountable for their behavior, and also makes for a smoother production.
Please help your children to understand that their behavior can effect the entire group dynamic in a positive or negative way.  We're so grateful for the amazing group of kids that we get to work with, and understand that behavior often evolves with the different ages and stages of development.  We're eager to grow alongside the actors as we work together this season!
In situations where the producer and or director deem it warranted, children can be asked to withdraw at any point in the performance season at the sole discretion of the producer and or director.
Group Read-Through:
We will be hosting a group read-through of the script prior to the first rehearsal on Wednesday, January 24, 2017 from at 1:00-3:00pm at the Harrisburg YMCA.   Parents are welcome, but not required, to attend.  All participants will receive their own, individually highlighted script at the time of the read-through.  Scripts will not be available earlier than the read-through on August 30th.
Rehearsal Schedule:
Participants must be available to rehearse from 1-3 pm, although they may not be asked to rehearse both hours.  Dates are as follows:
1:00 – 3:00 on Wednesdays and Fridays.  Some actors will be called to both days of rehearsal while some will meet only once each week.  Rehearsals are on the following dates:

1/26, 1/31, 2/2, 2/7, 2/9, 2/14, 2/16, 2/21, 2/23, 2/28, 3/2, 3/7, 3/9, 3/14, 3/16, 3/21, 3/23, 3/28, 3/30, 4/4

Mandatory tech week rehearsals from 1:00 – 3:00 on the following dates:
Dress Rehearsal Schedule:
In lieu of a dress rehearsal, students will be asked to come to Winkler at 4:00 on Friday April 13th to do a run-through of the performance.
Performance Schedule:
When:  Friday, April 13th @ 7pm  AND  Saturday, April 14th @ 6pm
Where: Winkler Middle School, 4501 Weddington Rd NW, Concord, NC 28027
Participants are expected to arrive at Winkler Middle School at 4:00pm on Friday, April 13th.  Parents are asked to stay after the second performance to help with taking down the stage and general clean-up.
Parent Participation:
Parent participation is key to achieving a successful experience, therefore participation in Rise & Shine Players should be considered a family commitment.  Parents are encouraged to include any theatre-related talents in the appropriate spot on the enrollment form, however a list of volunteer opportunities will be discussed at a parent meeting on the day of the first rehearsal.
For parents who will be taking advantage of the discounted participation fee ($80 vs $160 per child)

Fundraising through the sale of playbill ad space is one of the primary sources through which we fund our group (pay directors, rent rehearsal space and performance space, etc.).  Ultimately, we use the funds to subsidize the cost of registration to keep the price as affordable as possible.  This is nothing to stress – you'll receive instructions on how to go about selling ad space, and we'll do our best to make it as easy for you as possible!
One parent from each family is required to:

Attend a parent meeting held during the first rehearsal on Friday, January 26th at the YMCA from 1:00 – 2:00.  Attendance at this meeting is required  Please plan to send at least one adult member from your family.  Volunteer roles and marketing assignments (for parents who chose payment option A) will be made during this meeting.
Volunteer approximately 6 hours of time in their assigned role (costume design, set design, playbill creation, etc.)
Visit local businesses to sell advertising space in the playbill (for parents who choose discounted registration fee option)