Fall 2014 Production – Cinderella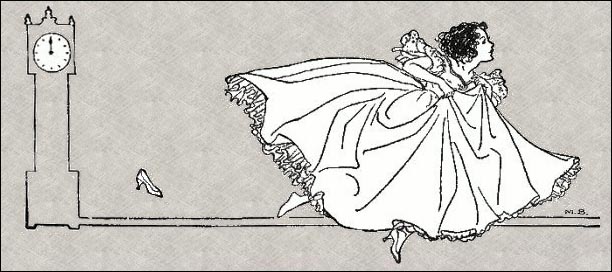 Fall 2014 Production:  Cinderella
Enrollment is now closed.
Join us as we recreate Cinderella!  Humor and romance are beautifully woven together with a generous touch of magic in this lively version of the timeless favorite and always beloved French tale.
How to Enroll:
Click ENROLL NOW link.
Submit the enrollment form.
Submit the $25/child deposit.
Who:  
Open enrollment for actor/actress roles for proficient readers ages 5+.  Children are expected to read their script lines independently in front of the group beginning on the rehearsal after parts are cast.
Cost:
$80/child for the performance season ($25 due at time via paypal, and $55 balance due at the first class).  Sibling Discount applies where applicable.
$110/child for the performance season for a child with an audition-only role.  The increased costs allows us to pay the director for the additional rehearsal time children with audtioned roles will receive.
The enrollment fee includes:

13, 1-hour rehearsals and 2, 2-hour rehearsals (total 17 hours of rehearsal instruction — this number will be higher for auditioned roles.)
1 invited dress rehearsal
1 evening performance

Costumes and other necessaries are provided by the parent, however costumes are inexpensive and most can be created using items you have at home.
Rehearsal Location:
Cannon Memorial YMCA located @ 4110 Main Street, Suite 200 Harrisburg, NC 28075
Rehearsal Schedule:
1:00-3:00 for children with audition-only roles.  We may not start rehearsal until 1:15 or 1:30, but keep your schedule free from 1:00 – 3:00 just in case.  We will solidify the start time before the season begins.
2:00-3:00pm for children with non-auditioned roles on Mondays and Wednesdays for an 8-week session, on the dates below:

10/1, 10/6, 10/8, 10/13, 10/15, 10/20, 10/22, 10/27, 10/29, 11/3, 11/5, 11/10, 11/12

1:00-3:00 during the final rehearsal week, on the dates below:
Dress Rehearsal Schedule:
1:00-3:00pm on Friday November 21, 2014 at the Harrisburg YMCA, located @ 4110 Main Street, Suite 200 Harrisburg, NC 28075.
Performance Schedule:
When:  Friday November 21, 2014 @ 7pm   AND  Saturday November 22, 2014 @ 2pm
Where:  Hickory Ridge High School stage & auditorium.
7321 Raging Ridge Rd
Harrisburg, NC  28075
Parent Participation:
Parent participation is key to achieving a successful experience, therefore participation in Rise & Shine Players℠ should be considered a family commitment.  Parents are encouraged to include any theatre-related talents in the appropriate spot on the enrollment form, however a list of volunteer opportunities will also be emailed to parents before the 2014 season begins.
One parent from each family is required to:

Attend a parent meeting held during the first rehearsal on 10/1/14 at the YMCA from 2:00 – 3:00.  Volunteer roles and marketing assignments will be made during this meeting.
Volunteer approximately 6 hours of time in their assigned role (costume design, set design, playbill creation, etc.)
Visit 2-3 local businesses to sell advertising space in the playbill
 Auditions:  This season participants will have the opportunity to audition for one of 7 audition-only roles, or to participate in the standard non-auditioned roles.  All participants will receive stage time and speaking parts regardless of their role.  For those who want to audition, auditions will be held in the Harrisburg YMCA on Monday, September 22 2014 starting at 2pm.
How to Prepare for Auditions:  Director Steven will compile instructions on what participants can do to prepare for auditions.  I will send this out to all parents as soon as I receive it.
Audition-Only Roles:  Cinderella features 7 auditioned roles, as well as 30 supporting roles with speaking parts:
CINDERELLA – a sweet young girl in rather unfortunate circumstances.  She has a great deal of practical common sense, which helps her through her more difficult moments.
THELMA – one of Cinderella's stepsisters. She is very tall and rather skinny and awkward. She is selfish, vain and greedy, and competes constantly with her sister, Gertrude.
GERTRUDE – Cinderella's other stepsister. She is chubby and clumsy, and just as greedy, vain and selfish as her sister, Thelma.
FRIEDA – Thelma and Gertrude's overbearing "Mama" and Cinderella's unloving stepmother. A vain and greedy woman, she is extremely ambitious for her daughters, and almost totally blind to their faults.
PRINCE PHILIP – the Crown Prince of the local royal family. He is a kind and unassuming young gentlemen. Philip is not at all snobbish, and he has a definite propensity for the romantic.
LORD PETTIGREW PEABODY, THE BARON OF PICKFORD – a gentleman of the Court. The Baron is an extremely conventional man and devotes much of his time to the preservation of the proprieties.
CASSANDRA, THE FAIRY GODMOTHER – a lovely, gracious lady of no particular age
FELLOWE – assistant to the Fairy Godmother, a mime role