Spring 2017 Musical: The Grunch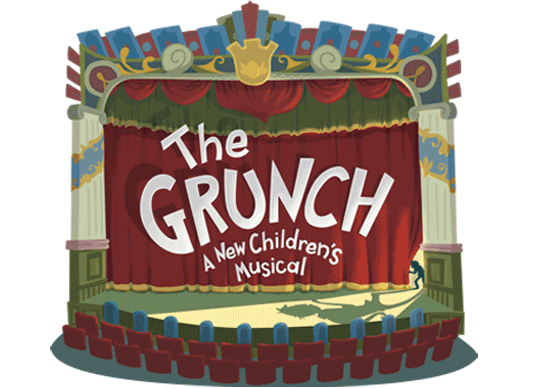 Spring 2017 Musical:  The Grunch
Inspired by "The Grinch Who Stole Christmas", The Grunch tells the story of Rudy Grunch, a grumpy 6th grader who always feels like an outsider. When the entire school gets excited about the annual school musical, he comes up with a perfect plan to ruin it for everyone; he'll steal the sets, costumes and lights the night before it opens. But will the spirit of theatre prevail?
For new and returning parents, we have made several changes to our policies and procedures to help make the season as smooth as possible.  Please read the information below carefully:
Important Registration Information:
All interested participants are required to attend auditions on Thursday February 2nd, 2017 at 1:00pm hosted at the Harrisburg YMCA.
There is no registration deposit required for your child to audition.  The participation fee is due in full on February 9th, the date date of the group read-through, in order to give participants the chance to view and accept their role. We do ask that you still submit the registration form prior to auditions so that the director can plan for the number and ages of the children that will be at auditions.
How to Register for Auditions:
Who:
Open enrollment for actor/actress roles for independent readers ages 5+.

All participants are expected to cold-read from the script independently during auditions.  Children who are not able to read their script independently will be encouraged to delay participation for a future season.
Cost:

 
$160/child for the performance season(due in full by February 9th).  Sibling Discount applies where applicable.  Payment can be made through paypal, cash, or check.

DISCOUNTED OPTION!!

  $80/child for the performance season (due in full by February 9th).  Sibling Discount applies where applicable. This option enables parents to fundraise the additional $80/child through the sale of playbill ad space, shout outs, and sponsorships.   If mid-season, you choose not to sell ad space or do not meet your ad sales minimum, you can pay the remaining balance at that time.  Payment can be made through paypal, cash, or check.
The enrollment fee includes:
19, 1-2 hour rehearsals
1 dress rehearsal
2 evening performances
Costumes and other necessaries are paid for separately by the parent, however costumes are inexpensive and most are created by the parent costume design team.
Rehearsal Location:
Cannon Memorial YMCA located @ 4110 Main Street, Suite 200 Harrisburg, NC 28075
Auditions:
What to Expect at Auditions:
All interested participants will be asked to cold-read independently (no help from parents) from the script for auditions.  Participants who are interested in a singing role will be invited to sing a short song (less than 1 minute) of their choice.  Parents are encouraged, but not required, to stay with their students during the audition.
All students will be asked to audition in front of the group.  Exceptions can not be made for children to audition 1:1 with the director.

CUTS:

  Like all musicals, the Grunch has a limited (yet flexible) cast.  Depending on the number of students who audition, the director may cut interested participants.  Any children that are not able to read the script independently during rehearsal will be encouraged to audition again in a future season.
Absences & Date Conflicts:
All interested participants are required to bring a list of date conflicts and planned absences with them to auditions.  A significant number absences will affect the roles for which you are considered.  2 absences are permitted during the season outside of your scheduled conflicts, but please let the director know in advance.  There may be no absences barring emergency circumstances during tech week or on performance dates.
How to Prepare for Auditions:
Whatever character or type of character you are reading, imagine you really are them. How would they say the words? How would they act while they're saying them? Would they move around? Would they stand still? Would they sit? What facial expressions would they make? Would they be making any motions with their arms, or acting something out with their bodies?
Be loud! I always get nervous when I audition for shows, and sometimes when nerves hit, it's easy to be quieter than you mean to be. If you think you're being loud enough, be even louder.
 Just because you read one character's part during auditions does not mean that you are being cast in that part. Rather than using passages for every single available part, only a few are marked to be read in auditions. The character you read in auditions is not an indication of where you will be cast. We're sneaky that way. 😉
Note from Samantha:  I've been in your shoes when it comes to auditions more times than I can count. I know how hard it can be when you're nervous and you have to read for a part in front of someone and how it can seem intimidating having people watching and listening to you. I still get nervous when I go on auditions! Nerves are normal.  Know that everyone in that room is rooting for you. I'm rooting for you the whole time! Auditions are a great time to start getting to know everyone or to catch up with old friends. If I could take away all the nerves I would, but since it comes with the territory, we'll dance the butterflies out, take deep breaths, and just do our best.
Behavior:
Per the director's discretion, participants who have demonstrated repeatedly difficult or unruly behavior in the prior theatre season will not be considered for a main role in the upcoming season.  This helps ensure that the children are accountable for their behavior, and also makes for a smoother production.
Please help your children to understand that their behavior can effect the entire group dynamic in a positive or negative way.  We're so grateful for the amazing group of kids that we get to work with, and understand that behavior often evolves with the different ages and stages of development.  We're eager to grow alongside the actors as we work together this season!
In situations where the producer and or director deem it warranted, children can be asked to withdraw at any point in the performance season at the sole discretion of the producer and or director.
Group Read-Through:
We will be hosting a group read-through of the script prior to the first rehearsal on Thursday February 9, 2017 from at 1:00-3:00pm at the Harrisburg YMCA.   Parents are welcome, but not required, to attend.  All participants will receive their own, individually highlighted script at the time of the read-through.  Scripts will not be available earlier than the read-through on February 9th.
Rehearsal Schedule:
Participants must be available to rehearse from 1-3 pm, although they may not be asked to rehearse both hours.  Dates are as follows:
1:00 – 2:00 for all participants and 2:00-3:00 for participants on a rotating basis, Tuesdays and Thursdays on the following dates:

2/16, 2/21, 2/23, 2/28, 3/2, 3/7, 3/9, 3/14, 3/16,

1:00 – 3:00 for all participants on Tuesdays and Thursdays on the following dates:

3/21, 3/23, 3/28, 3/30, 4/4, 4/6, 4/11, 4/13

Mandatory tech week rehearsals from 1:00 – 3:00 on the following dates:
Dress Rehearsal Schedule:
We are in the process of determining whether or not we will be able host a dress rehearsals on Thursday, April 20, 2o17 on the stage where we will be performing.  Details will be released asap.  If we can not schedule a dress rehearsal on April 20th, we will do one before the Friday performance at 4:00pm on April 21st.
Performance Schedule:
When:  Friday April 21, 2016 @ 7pm  AND  Saturday April 22, 2016 @ 6pm
Where: Winkler Middle School 4501 Weddington Rd NW, Concord, NC 28027
Participants are expected to arrive at Winkler Middle School at 4:00pm on Friday April 21st and at 4:00 on Saturday April 22nd.  Parents are asked to stay after the second performance to help with taking down the stage and general clean-up.
Parent Participation:
Parent participation is key to achieving a successful experience, therefore participation in Rise & Shine Players should be considered a family commitment.  Parents are encouraged to include any theatre-related talents in the appropriate spot on the enrollment form, however a list of volunteer opportunities will be discussed at a parent meeting on the day of the first rehearsal.
For parents who will be taking advantage of the discounted participation fee ($80 vs $160 per child)

Fundraising through the sale of playbill ad space is one of the primary sources through which we fund our group (pay directors, rent rehearsal space and performance space, etc.).  Ultimately, we use the funds to subsidize the cost of registration to keep the price as affordable as possible.  This is nothing to stress – you'll receive instructions on how to go about selling ad space, and we'll do our best to make it as easy for you as possible!
One parent from each family is required to:

Attend a parent meeting held during the first rehearsal on Thursday February, 16th at the YMCA from 1:00 – 2:00.  Attendance at this meeting is required  Please plan to send at least one adult member from your family.  Volunteer roles and marketing assignments (for parents who chose payment option A) will be made during this meeting.
Volunteer approximately 6 hours of time in their assigned role (costume design, set design, playbill creation, etc.)
Visit local businesses to sell advertising space in the playbill (for parents who choose discounted registration fee option)